Schnayderman's Vulnerable Dreamer
Patrick Michael Hughes Senior Fashion Editor- Men's Fashion Writer
Photography by Angelique Johner
COPENHAGEN; Schnayderman's presented a fictional fashion show for Copenhagen Fashion Week Fall 2022 . This season's thematic title was "The Dreamer/The Fool". The creative director Hampus Bernhoff's vision was the story of a foolish man dreaming of love only to find himself caught in an endless loop of dizzying heights and crushing lows. Is he a dreamer? Is he a fool? Or is he a little bit of both? "What he wants is not what he needs and what he needs always seems to elude him..." the David Lynch mental dystopia style film states, as it quickly draws the viewer into this season's well dressed, odd and engaging narrative of fractured meetings, experiences and characters.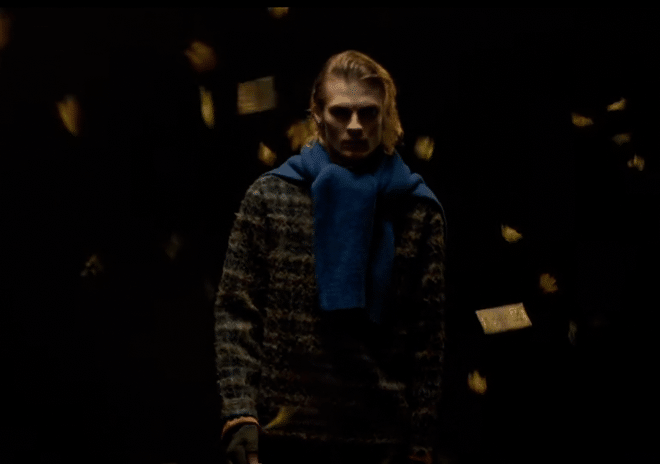 The collection reflects on the current state of the world of global pandemic and restriction. Bernhoff, challenges us to start dreaming again, set sites toward the future with a sense of vulnerability and failure. The direction of the brand is one which affirms that they create collections for the 'Weird and the Wonderful'. Their thoughtful designs envision a world where the 'Weird and the Wonderful' are not only necessary, but celebrated. Its the Weird and the Wonderful that are driving forces of new ideas for how to consider not only the world, but ourselves.
Schnayderman's is about collaboration and recycling human collaborative values such as kindness, truth, and inclusion to dress the Weird and the Wonderful of the world.
Tarot cards and surreal landscapes were the basis for the collection's inspiration and the fashion film. Texture and strong color contrast were the key notes of this collection. Highlighted, against the volume and layered knits were tailored high waist trousers with a single pleat, a full leg and break at the ankle. The fuller trouser is an essential element in men's fashion for the fall 2022. The tailored double breasted jackets had strong shoulders with a hearty peak lapel, a nod no doubt to Bernhoff's time in London at Central Saint Martins. The traditional wearable looks had a European affluence and a preppy American campus vibe about them. Casula but almost dressed up saying we are getting there and there will be a return to sartorial form. The styling of this collection in the film and fictional runway was quite good. There was also presences of unisex styles in bright cobalt blue, hot pink and canary yellow adjacent to the dark tones of jet black and navy.
Schnayderman's sustainability statement is that almost all the fabrics are produced and made in Europe. The goal is to minimize our carbon footprint, we keep our manufacturing as close as possible. Schnayderman's is developing long lasting relationships with suppliers, who are based solely in Europe with our main factories being Italy and Portugal. Up-cycling is also a model Schnayderman's strongly believes in and the brand is constantly adapting to quickly changing times.